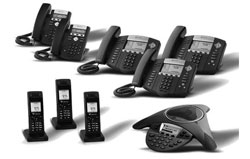 VOIP stands for Voice over Internet Protocol. VoIP technology allows a phone call to be made over the internet. VoIP calls can be made to another VoIP user, a mobile or a landline anywhere in the world just like a normal phone. VoIP is simply about making your voice into data and transferring it over the internet. And now thanks to faster broadband connections and advancement of technology, companies and individuals are able to make uninterrupted business-quality calls over the internet for a fraction of the cost of normal calls.

We provide digital phone systems for small to medium businesses and home users with a requirement for between 1 to 20 handsets.

Our small SOHO systems have all the features normally found in corporate installations including Voicemail, Hunt Groups, Call Diversion/Transfer , Voice Auto-Attendant and Music on Hold

For a more detailed explanation of VOIP click here.