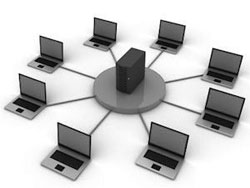 If you have more than one PC, a computer network can improve efficiency and reduce costs.

Files can be shared between computers without the need of CD's or memory stick. Printers and photocopiers can be shared, reducing the hardware costs.

We can plan and install a new network or extend your existing infrastructure, advising on server based or PC only networks.

We are experienced in providing both cabled and wireless solutions.